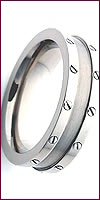 Q1: WHAT ARE THEY?
Polished titanium eternity bands.
Profess your undying love to your woman and spoil yourself with a sharp accessory at the same time. The "Fidelity" matching ring set allows you to buy yourself a present while fronting that it's for her.

Q2: WHO ARE THEY FOR?
You and your lady.
A brushed center channel lined with titanium screws makes this a very masculine piece of jewelry. But she'll only see your sensitive, caring side when you present a matching one to her, which will score you some serious points.

Q3: WHY ARE THEY UNIQUE?
Romantic and rugged.
Romance and titanium don't traditionally go together, but that's not to say that they shouldn't. The design and cold flash of this set will catch your eye; she'll like the look too, but it's the sentimental connotations that will really keep her really happy.

Q4: WHEN DO YOU WEAR IT?
All day, every day.
It's not a wedding ring, but it still might be loaded with symbolism for your woman. So put it on daily just for her... you'll want to wear it anyway.