Try as you might, you can't escape the winter chill in the air. And no matter where you turn, you can't hide from the holidays and everything that goes along with them. Put these two factors together, and it's time to get ready for winter 2005-2006. So although you have to hit the streets to stock up on Christmas gifts, you deserve to treat yourself to the must-haves of the season. Besides, if you don't think of yourself, who will?
To help you with your "wish list," check out the looks that are sure to make this winter as cool as ever.
Crisp white button-down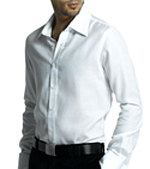 Every man needs a classic white collared shirt for professional and social occasions. This Kenneth Cole cotton white shirt, featuring French cuffs and a cross dyed jacquard (a fabric with an intricately woven pattern), is pretty slick for a staple item. If you plan on making a good first impression, you can always rely on your white button-down to save the day as a classy and versatile number.
Wear it with: A sleek pair of black flat-front pants.
Black velvet pants
If you really want to get into the winter spirit with style, try a pair of velvet pants on for size. While velvet blazers have been a "must-have item" since fall 2004, pants have been left out of the equation... until now. But as hot as both garments are, never wear your velvet blazer and pants together. Slip on these black velvet flat-front pants by Kenneth Cole for a hot date that involves dinner at a swank restaurant.
Wear them with: A black V-neck or crewneck sweater.
Herringbone blazer

A herringbone (a pattern consisting of rows of short, slanted parallel lines with the direction of the slant alternating row by row) blazer, like this one by Banana Republic, offers the wearer warmth and classic appeal. With a variety of matching and layering options, a herringbone blazer can be worn for your 9 to 5 or even a weekend day spent downtown.

If you're known as more of a risk taker, you can give your wool herringbone blazer more attitude with the help of some graphics printed on the front and/or back -- in the case of this Allen B. Schwartz blazer, a yellow flower design printed on the chest, and another design surrounded by the message "Scandal Los Angeles" on the back.
Wear either with: A trendy pair of jeans and a solid-colored T-shirt or V-neck.
Boot-cut corduroys
A fall and winter staple, corduroys are sure to help you stay warm in cooler weather -- especially if they're made from a thicker fabric. Add some edge to your look with a pair of boot-cut corduroys like these from Banana Republic -- they're the perfect way to give your jeans or flat-front pants a rest.
Wear them with: Match your gray or beige cords with an argyle sweater or a T-shirt and blazer layered on top.
Solid V-neck sweater


Bright colors aren't just for the warmer seasons - in fact, introducing vivid colors like green or orange to your winter wardrobe is a great way to make your skin look brighter and give it a much-needed lift. If you're used to wearing black, gray or navy, it's time to try a wool V-neck in purple or green -- like this stylish sweater from Kenneth Cole -- and wear it over a white or even striped collared shirt.
Wear it with: Layer your V-neck under a herringbone, tweed or velvet blazer -- if it's a bright color like green, then stick to neutrals like gray, brown or black.
Black zip-up cardigan
Although bright colors are essential during the fall and winter seasons, the sleekness of a high-quality black sweater can never be underestimated. This black wool zip-front cardigan by design genius Michael Kors features ribbed knit wool, a mock neck, and a leather trimmed placket in the front, all adding up to one sophisticated sweater that'll serve as your go-to sweater for day or night.
Wear it with: A pair of gray wool or flannel pants.
Cashmere hoodie


To really indulge in the luxury of winter, pick up a cashmere sweater. This orange cashmere hooded sweater by Theory blends several stylish concepts: a hooded sweater/sweatshirt, the coolness of orange as an "It" winter color, and the richness of cashmere. You don't need all of these features to reap the rewards of this look -- but why not kill all three birds with one stone... or sweater?
Wear it with: Layer your hooded sweater underneath a wool blazer.

Pinstriped suit
This classic formal look has remained stylish for years, but you can ensure that you'll look extra slick this season with a gray pinstriped suit. If you splurge on high quality, you can bet that it'll last for years to come, and with a versatile color like gray, you'll be able to wear a countless number of shirts and ties underneath. This gray pinstriped suit by Zara will give the gift that keeps on giving: stylish sophistication.
Wear it with: Wear your gray, navy or black pinstriped suit with a white button-down and funky tie.
Black vest
Here's a look that's hard to pull off, but if you're a fan of taking risks with your image and following European-inspired trends, you won't be able to resist a black vest. This black three-button vest adds no-nonsense style to a formal or casual look, depending on the shirt and pants you match it with. Le Chateau released it right on time, as it's a great look for any Christmas or New Year's Eve bash.
Wear it with: Button up your vest over a sleek striped collared shirt (preferably in dark colors) and a pair of black flat-front pants. Just make sure you keep it simple in other areas of your attire.