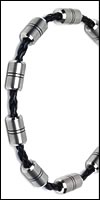 Q1: WHAT ARE THEY?
A combo packaged in a combo.
justMetal's latest, the Modulus collection, brings together leather and titanium in a bracelet/necklace set.
Q2: WHO ARE THEY FOR?
Not just the S&M crowd.
Okay, so the blend of leather and metal may bring certain fetishes to mind, but maybe that's just because your mind's in the gutter. The truth is that justMetal's Modulus accessories project elegance while still hinting at something a little edgier -- a blend that can work to great effect.
Q3: WHY ARE THEY UNIQUE?
An unseen combo.
Leather has had its fair share of fashion face time with the rest of the world of ores; we've seen it coupled with sterling silver and brass, but until now, never with titanium. And you know what? It works.
Q4: WHEN DO YOU USE THEM?
Together, or split 'em up.
The Modulus necklace and bracelet aren't packaged together, but given justMetal's current pricing on the pair, you might as well get them both.
Q5: WHERE CAN YOU GET THEM?
www.justMetal.com
The necklace is yours for $125; the bracelet, $135 -- an average of 35% off their list prices.
Q6: HOW JEALOUS WILL YOUR FRIENDS BE?
RATING 8/10
When they ask where you found them, keep them in suspense for a while.