Making choices about what to wear every season can sometimes be a daunting task. What you think is in style one season may be viewed as passé the next, especially by the hardcore fashionistas. The reverse can also be true; something you'd consider old and unattractive can be all the rage right now, as is the case with an old tweed checkered jacket. You read right -- they're one of the coolest items to hit the streets this fall.
Remember, smart dressers don't follow trends blindly. Instead, they tend to purchase the aspect of the particular trend that appeals to them and then incorporate it into their existing wardrobe. So what's in style this fall? Find out with the following list of items, and check out how to wear them this season.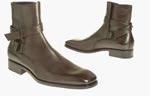 Ankle boots
These Gucci chocolate brown ankle boots boast the elongated look of Western style boots, the ruggedness of biker boots, and the sleek toe of Italian designer shoes. Made from 100% premium leather, these ankle boots were designed and crafted with the utmost in care; they also feature cool and discreet side belt detailing.
Wear them with: Wear them with a pair of boot-cut distressed designer jeans, a thick gray wool turtleneck, and a beige or brown corduroy blazer.
Find them: at Yoox.com


Argyle sweater
From Banana Republic, this half-zip, argyle, long-sleeve sweater is made from the finest merino wool. It features a half-zip mock collar, elbow patches for durability and an extra rugged look, and a contrast trim along the inner collar, sleeves and hem.
Wear it with: This fall, it's all about layering, and the good news is that you won't have to worry too much about matching colors because the craze is also about contrasting colors. You can wear your new argyle sweater over a plaid or striped shirt -- with or without a tie -- and with your favorite pair of jeans, or even over your favorite turtleneck paired with flat-front pants for a dressier look.
Find it: at BananaRepublic.com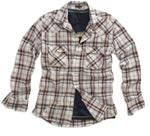 Cowboy plaid shirt
This cowboy-inspired plaid American Eagle Outfitters shirt offers a slim fit. It's made from soft cotton and features Western style pockets, pearl snap details, and Lurex stitching for a cool vintage look.
Wear it with: You can layer this shirt over a cool short-sleeve graphic T or under a colorful knitted V-neck sweater, with funky jeans or corduroy pants. Or, you can even wear it with a long-sleeve T-shirt, with your T's sleeves rolled up. Complete the look with a pair of dark brown biker boots or a stylish pair of vintage sneakers.